We run a series of 4-week programmes designed to improve your drawing and painting skills.
Course Overview
The course has a maximum of 8 students. Keeping student numbers low allows us to give each person more personalised guidance and support throughout the course, helping them to achieve their individual goals.
The course will run from 10am – 5pm each Tuesday, with an hour's break for lunch.
In the mornings you will draw or paint a still-life (or plaster cast) and in the afternoons you will draw or paint the nude figure.
Still life painting is a great way to learn and improve fundamental skills which you can then apply while painting a model.
The figure will be a sustained pose – you will work on the same pose for all 4 weeks. You will probably work on the same project in the mornings too. This might seem like a long time to work on a drawing / painting, but you will soon realise that it is not!
This may be one of the best art classes of all time! Neil has truly created a little gem here in the heart of Stroud.

Not only is [Lizet] an extremely accomplished artist in her own right, she also has that rare ability to share her knowledge and to tailor her teaching to the student. Her comments are always spot on and whether you're a beginner or an experienced painter she always has something to offer to help you move on and improve, see better, look further and generally become a better artist.

Christopher, student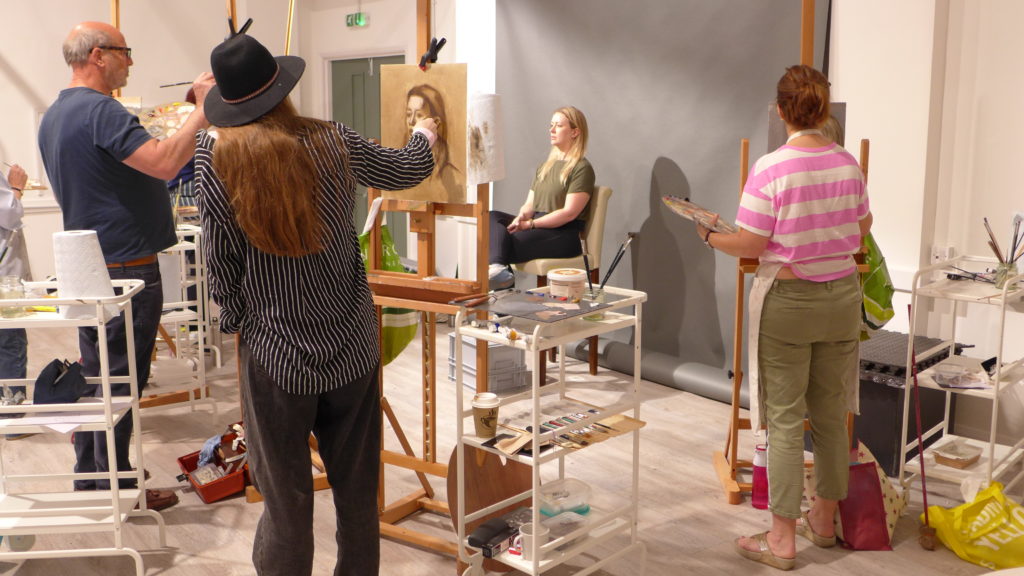 2023 Dates
Block 1: 3, 10, 17, 24 Jan
Block 2: 7, 14, 21, 28 Feb
Block 3: 14, 21, 28 Mar, 4 Apr
Block 4: 18, 25 Apr, 2, 9 May
Block 5: 23, 30 May, 6 Jun (3 week)
Block 6: 20, 27 Jun, 4, 11 Jul
Block 7: 8, 15, 22, 29 Aug
Block 8:12, 19, 26 Sept, 3 Oct
Block 9: 17, 24, 31 Oct, 7 Nov
Block 10: 21, 28 Nov, 5, 12 Dec
Although each block is 4 weeks long, you have the option of either booking for all 4 weeks, or for just 3 weeks. The cost is £400 for all 4 weeks or £300 for 3 weeks. If you are booking for 3 weeks, you can choose which week to miss.
Materials
You will work in charcoal; or charcoal and chalk; or oil paints, depending on what you are comfortable with and what you would like to improve. If you want to oil paint, you can paint with a Zorn palette or a full palette. We can supply paper, but you will need to supply all other materials.
Drawing in charcoal and chalk is a good stepping stone to oils, and a great place to start if you're not 100% confident in your drawing skills. If you have a solid foundation and are comfortable with the fundamentals of drawing, values and edges then you can jump straight into oil painting.
If this is your first class with Raw Umber Studios, we recommend you start with charcoal and chalk but this is just a recommendation.
Here are some materials lists:
In addition, if you are painting please bring your own odourless solvent (e.g. Sansodor) and medium (e.g. refined linseed oil) since we won't be sharing equipment or materials for safety reasons.
Safety
There will be a maximum of 10 people in the studio at any one time – 8 students, Lizet and the model (afternoons only). We will do our best to maintain social distancing wherever possible by, for example, setting the easels 2m apart and standing at least 2m from the model but this may be impractical at times (for example, when Lizet is giving feedback on your work). We won't be sharing materials. Wearing face masks probably won't be practical, but that is your choice.
If you are ill, then please don't attend. You will be refunded for the classes that you miss. If you have COVID-19 symptoms then you should seek a test ASAP. If anybody – including the model or tutor – tests positive for COVID-19 between the course start and end dates then the course will be cancelled and you will be refunded for the unused portion of the course.
While we will do what we can to minimise risks, ultimately it is up to you to evaluate the risks and decide whether to sign up for the course or not.
Refunds
If there is a local or national lock down, if government guidelines change, or if anybody on the course tests positive for COVID-19, then the course will be cancelled and you will be refunded for the unused portion of your course.
Location
Our new address is 16 Nelson Stroud, Stroud GL5 2HL. We now have a dedicated car park. Click here for more information.
Take Part
Interested in signing up for Tuesday School? Drop us an email at [email protected]
There is currently 1 space left for Tuesday School. We will prioritise students who are potentially interested in committing to long-term study.