Oil Painting Portraiture with Teresa Oaxaca (August 2022)
Date: Friday 26 August, 2022 - Monday 29 August, 2022
Time: 10am - 5pm
Tutor: Teresa Oaxaca
Cost: £675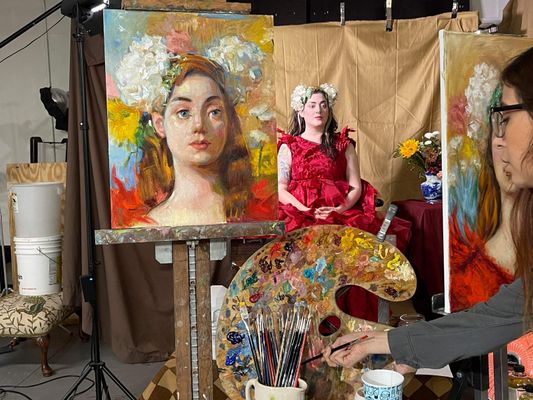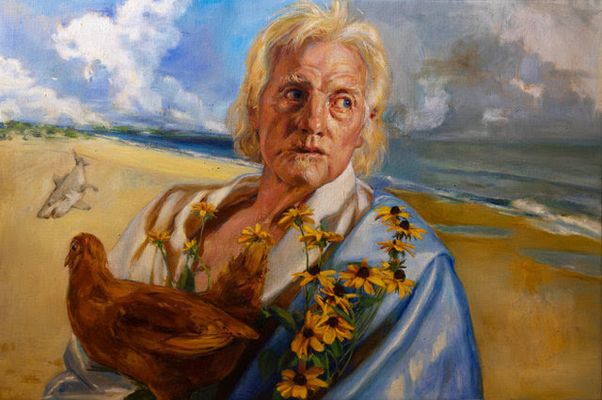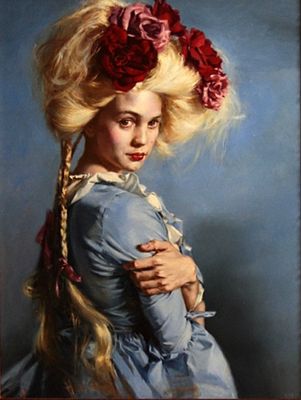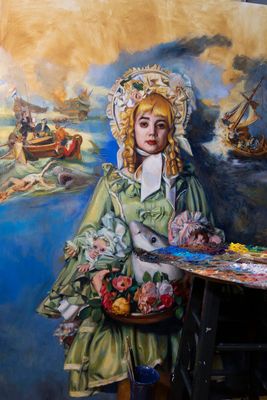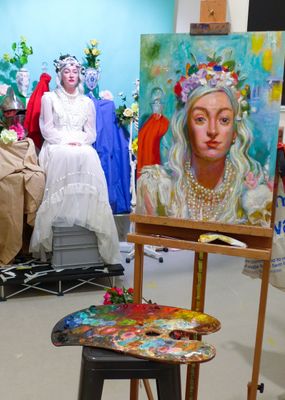 Oil Painting Portraiture with Teresa Oaxaca
In this workshop, Teresa will be teaching and demonstrating how to paint the humanist portrait in oils. Her approach utilises classical methods of the Baroque and nineteenth century, blended with a modern understanding of colour, brushwork and aesthetics.
What can I expect?

A live model holding single, sustained pose over four days (with breaks!). The model will be in costume, surrounded by still life. Teresa will demonstrate her methods and guide you through your own layering and texture process when constructing your portrait. Emphasis will be placed on constructing a proportionate head using anatomy, value, colour and brushwork to create various edge and blending effects. Glazing and Impasto techniques will be used.
Who is the tutor?

Teresa Oaxaca is an American born artist based currently in Washington D.C. She is a full time painter whose works can be seen in collections and galleries throughout the US and internationally.
Her training includes a four-year diploma at the Angel Academy of Art (Florence Italy, Graduate studies at the Florence Academy, an Apprenticeship with Odd Nerdrum in Norway, and studies at the Art League of Alexandria VA where she trained with Robert Liberace and Paul Lucchesi. Currently she teaches workshops around the United States and in Europe.
Since returning to the Washington D.C. area, Teresa has been focusing on creating a new body of work; a series that takes her away from academic studies to more elaborate compositions, which combine human and still life elements.



"My work is about pleasing the eye. I paint light and the way it falls. Simple observation reveals beauty; often it is found in the unconventional."



To see more of Teresa's work,
visit her website.
Teresa's Oil Colour Palette
-Ultramarine Blue Green Shade (or any ultramarine blue from Old Holland or Michael Harding or another brand of your choice) -Chromium Oxide Green -Lemon Ochre (or any Yellow Ochre) -Chrome Yellow Primrose (or a Cadmium Lemon Yellow) -Lead Tin Yellow Dark (not necessary, just her favourite!) -Orange Molybdate (very nice orange, but Cadmium Orange can be substituted) -Pozzuoli Red (a fancy name for red iron oxide pigments. Try looking for Venetian Red or English Red too) -Rose Madder (or Alizarin Crimson/Permanent Rose) -Cypress Umber Raw Dark (or a Dark Raw Umber) -Lead White #1 (or Titaniun white, Flake White Replacement) -Bone Black ("Ivory Black": No one makes paint from real Ivory anymore, it's just a fanciful name) -Cadmium Red -Cobalt Chromite Blue or Cerulean Blue -French Sienna or Raw Sienna
Mediums
Oleogel From Natural Pigments Or any Refined Linseed Oil, any brand Expoxide Oil From Natural Pigments (or Stand Oil or Sun Thickened oil instead, any brand) Teresa paints on both canvases and panels. Medium to smooth weave is preferred but bring what you are comfortable with. Please bring a canvas up to 16x20, or up to 34x24.
Brushes
Suggestions include a mix of soft oil painting brushes and rough sturdy bristle (hog). Synthetics can also be used if preferred.
How many students will there be?

There is a maximum of 12 participants and the tutor will customise the course according to your individual needs.
If you have any questions, please see our
frequently asked questions
 or 
contact us
.