Figure Painting with Anastasia Pollard (July 2022)
Date: Saturday 16 July, 2022 - Sunday 17 July, 2022
Time: 10am - 5pm
Tutor: Anastasia Pollard
Cost: £200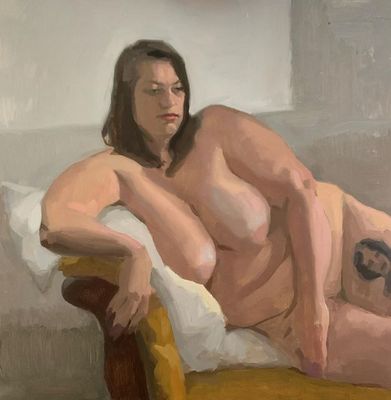 Figure Painting with Anastasia Pollard
In this exciting two day course, Anastasia Pollard will guide you through two days of figure painting in oils from life.
On day 1 you will paint fast, from 20 and 30 minute poses. These quick poses will help you loosen up and by repeating the entire painting process you will get a good feel of what painting the figure from start to finish entails.
On day 2 you will slow down and paint a single pose over the course of the whole day. This will consolidate your learning from day 1 and let you push a single painting to completion.
"Great setting, great teacher, great support; hard to fault. I would have loved it to go on longer... As it is, it's challenging yet accessible to all. I couldn't be happier. Even the couches are great!" - Christopher, July 2021 student
Who is the tutor?
This course is taught by Anastasia Pollard. Anastasia studied at Pennsylvania Academy of Fine Arts and Florence Academy of Art. Her work has been included in the annual exhibitions of the Royal Society of Portrait Painters and has featured in the BP Portrait Award in 2006, 2007, 2009, 2012 and 2017. Anastasia is a member of The Royal Society of Portrait Painters.
How many students will there be?
There is a maximum of 12 participants and the tutor will customise the course according to your individual needs.
You can find the materials list for this course
here
. If you have any questions, please see our 
frequently asked questions
 or 
contact us
.